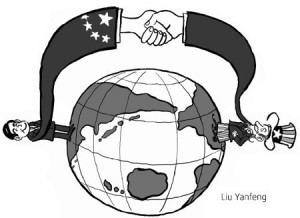 With President Hu Jintao set to make an official State visit to the U.S. next month, expect an increase in op-eds concerning violations of human rights in China and the demand that President Obama raise human rights issues with President Hu.  These op-eds usually name particular human rights activists, those who have been at it the longest and whose regular imprisonment and abuse make the international news.  Teng Biao is one such human rights lawyer who receives international attention whenever the Chinese police take him into custody, which, unfortunately, is a fairly regular occurrence.
In a recent essay translated in the Wall Street Journal, Prof. Teng recounts the wrongful detention and police brutality he suffered on December 23, 2010, when attempting to visit a colleague's mother.  But what makes Prof. Teng's essay particularly poignant is that he admits that because of his special status as an internationally-known human rights lawyer, the beatings he suffers at the hands of the police are much less severe than someone with less international name recognition.
The op-eds that will inevitably appear prior to President Hu's visit to the U.S. should not just call for the freedom of a single human rights activist; rather it is important that these op-eds also look at the systemic problems with the culture of lawlessness that permeates the Chinese police and the lack of a rule of law.  Prof. Teng portrays a police force drunk on its own power and willing to cast aside the law to do as it pleases, including abusing its citizens.
'A Hole to Bury You'
A first-hand account of how China's police treats the citizens it's supposed to serve and protect.
By Teng Biao*
Beijing – On Dec. 23, the United Nations International Convention for the Protection of All Persons From Forced Disappearance came into force. China has declined to accede to this convention. My experience that same day is just one of many examples of how the authorities continue to falsely imprison Chinese citizens.
That evening, I was in the Xizhimen area of Beijing chatting with my colleagues Piao Xiang, Xu Zhiyong and Zhang Yongpan. Ms. Piao had been disappeared after she and I went to Dandong on Oct. 7 to argue the court case of Leng Guoquan, a man framed by the police for drug trafficking; she had only been released on Dec. 20. Her abductors had been officers from the state security squad of the Public Security Bureau. I asked her to narrate the entire process of her disappearance in detail.
Later, I suggested to Mr. Zhang, "Let's go and see Fan Yafeng's mom." The day before, we had contacted fellow human rights lawyer Fan Yafeng and found out that he was under strict house arrest. But he had said that his mother was going to be alone at home in the evening and so I thought we should go see her.
Because I used to go there frequently I remembered clearly where she lived. As Mr. Zhang and I entered the block of flats and started walking up the staircase, I had a feeling that someone was following us. Observing that we went to the third floor, a young security guard asked us whom we were visiting. We said, "We're seeing a friend." Immediately, he called out for someone else to come up.
We knocked on the door and were greeted by Mr. Fan's mother. But as we entered the flat, the security guard came with us, and a person in plainclothes stormed in just behind him. The man in plainclothes demanded to check our IDs in a very coarse manner. I asked him in a loud voice, "What sort of people are you? How can you enter a private residence without permission?"
The plainclothes man said, "I am a police officer. We want to check your ID cards." "You're a police officer? I want to see your police ID." "If I am telling you I'm a police officer, then that's what I am. What are you doing here?" "Is that your business? How can you prove you're a police officer if you don't show your police ID card?"
*Prof. Teng Biao is a lecturer of law at the Law School of the China University of Political Science and Law (CUPL), one of China's most prestigious law school.  After working with human rights lawyer Xu Zhiyong to successfully abolish the Custody and Repatriation system, Teng and Xu opened the public interest law firm, Open Constitution Initiative, which was shut down in summer 2009.  Teng has been repeatedly warned by administrators at CUPL that if he continues with his rights defense work, he could lose his job and even his personal freedom.
By