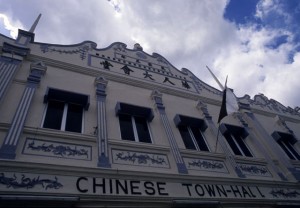 Since 2007, the National Committee for US-China Relations (NCUCR) has hosted a "China Town Hall," a national day of awareness of the U.S.' relationship with China.  As part of this Town Hall, the NCUCR organizes events throughout the country, hosts a webchat with a prominent China person (last year was US Ambassador to China Jon Huntsman), and encourages the local events to invite their own local guest speaker for a live conversation.
For the 2011 China Town Hall, NCUCR will be hosting a webchat with President Carter's National Security Advisor Zbigniew Brzezinski.  Although it was President Nixon who was the first U.S. president to visit the People's Republic of China (PRC), it was under President Carter that relations with the PRC were normalized and recognition of the Republic of China (Taiwan) was cut.  Dr. Brzezinski was in the middle of all these decisions.  More recently, Dr. Brzezinski has commented on the US-China relationship in a January 2011 N.Y. Times op-ed (see criticism of his opinion here).
Where to watch the China Town Hall? In the New York City area, this year's China Town Hall will be hosted by
Fordham Law School, with the local guest none other than internet freedom guru Rebecca MacKinnon.  Now, I have never seen Prof. MacKinnon speak before, but in following her blog and her twitter feed, I have a feeling her talk is not to be missed.
BUT for the Fordham event, you NEED to RSVP – the event is free but RSVP is required.  Please RSVP here: http://cthnyc.eventbrite.com
China Town Hall
Fordham Law School
McNally Auditorium – 140 West 62nd Street, New York, NY
Wednesday, Nov. 16, 2011
6:45 – 9 pm
6:45 p.m.  Doors Open
7:00 p.m.  Webchat with Dr. Zbigniew Brzezinski
7:45 p.m.  Live Talk with Prof. Rebecca MacKinnon
8:30 p.m.  Q&A with Prof. MacKinnon
Remember to RSVP here: http://cthnyc.eventbrite.com
For a listing of China Town Hall Events in your neighborhood, click here: http://www.ncuscr.org/cth