Who would have thought that the U.N. Climate Change Conference could tear the world away from the on-going saga of Tiger Woods?  With protests in the streets of Copenhagen that escalate every day (click here for an insider's perspective on the protests), a mass walk-out by developing nations from the conference, and constant barbs between the world's two largest emitters of greenhouse gases (GHG), the U.S. and China, the drama is running high in the closing days of Copenhagen and the world is on edge.  Will there be a deal?
As Marcy Nicks Moody noted, a legally binding treaty will not emerge from Copenhagen. However, going into Copenhagen last week, with both the U.S. and China announcing their respective commitments, a strong political agreement seemed possible.  But with the increasingly antagonistic discussion between the U.S. and China delegations, has the world reached an impasse?  Should everyone pack their bags now and head home?
Not quite yet.  There is still reason to have hope.
First, the very fact that there is heated discussion, disagreement and even anger is a good thing.  If Copenhagen was going to be a rubber stamp, a mere sheet of paper that no one was going to pay attention to, there would not be such dissension in the ranks, especially from the U.S. and China.  But countries like China and the U.S. are strategically considering their interests in anticipation of a strong political agreement that will likely provide the framework for a legally binding one in the future.
Second, we are still in the negotiation stages.  Yes, the exchanges between the U.S. and China over financial assistance,
transparency, and caps have become more hostile, but that could also be because, now with China on a more equal footing in the world, it is able to negotiate harder and play both offense and defense.
Additionally, the climate change talks have proved to be a growing experience for China and its leadership.  Copenhagen is the first international summit of substance that China is a part of in its new status as an emerging global power, forcing its leadership to confront the reality that such a title comes with both advantages and disadvantages.  China's increased status in the world gives it the negotiating power to better protect its interests in the final document, surely a distinct advantage.   But its increased status also means that China's interests are no longer completely aligned with the other developing countries' interests; while China is still the de facto leader of "the Group of 77 plus China" and holds sway over many of the African nations because of trade alliances, there are times when China's interests are adverse to the developing world's.  As China's power continues to grow, such division between it and the developing world will inevitably increase and China will have to become more comfortable with this fact.  Copenhagen is a reflection of these growing pains.
So how do we move forward?
Tomorrow, the leaders of the world will converge on Copenhagen with the goal of producing a clear and strong roadmap to a legally binding treaty.  The biggest issue that could prevent some form of a deliverable is the U.S. and China relationship.  So how do we move forward?
China has demanded international funding for its climate change commitments.  China argues that the western nations, for the past few hundred years, have been able to grow without any restrictions on their development.  Fossil fuels were used without consideration for the climate and lands were deforested with abandon.  China argues that the West's irresponsible development vis-à-vis the global environment is the cause of the current climate change crisis.  But by asking that all nations partake in a climate change deal, China maintains that the West is unfairly spreading the costs of its own development on all countries.  As a result, China is demanding that if the West wants it to agree to a climate change bill that would require China to pay for past western growth, the West needs to offer some form of payment.
The logic underlying China's argument cannot be denied.  However, if a deal at Copenhagen is not reached, China will be the cause of the world's future climate crisis.  By that time, when the "score" between the West's development and China's will be equal, it will be too late to broker a deal.  Additionally, China's demand for some form of climate reparations comes at a financially difficult time.  Politically for the U.S., it's difficult to justify a blank check to the U.S.' largest debt holder.
However, the U.S. should not just walk away from China's demand since the U.S. could benefit from this as well.  China has already stated that without international funding, it will not allow outside international verification of its Copenhagen commitments.  The U.S. has balked at China's refusal to allow for outside verification, and rightfully so.  While China has made some progress in improving its statistical measurement ability, it is still worlds away from the West and given some of China's past practice of using measurements that produce falsely positive results, the West is right to be skeptical.
But Copenhagen could serve as an opportunity to help China develop its capacity to measure and verify data as well as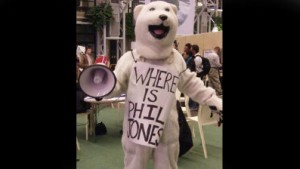 implement its commitments on the local level.  And this would not just help with climate change.  China has a horrible record of statistical reporting in every sector – environmental, criminal justice, trade disputes, and economic development.  However, with the assistance from the West, China will not just learn to better measure its own development but will become more comfortable with public reporting.  This could create a more reliable and transparent government, something that both the Chinese people and the outside world could benefit from.
Thus, hopefully in these last few days, the U.S. and China can reach a targeted agreement whereby the U.S. and the West will provide financial assistance to China's attempts to better measure its data as long as China opens this process to U.S. and Western observation.
By