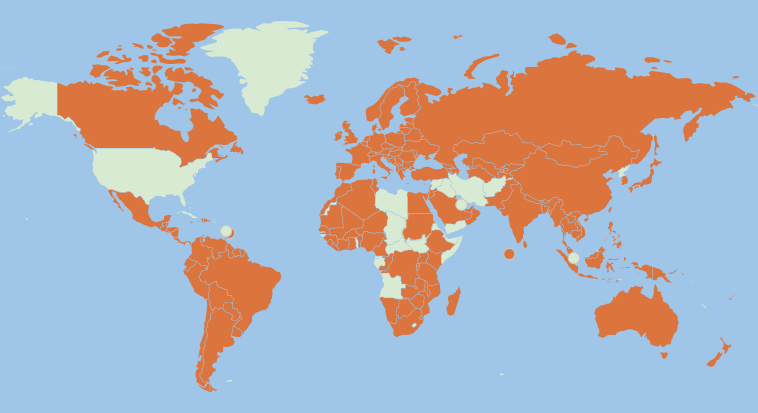 Last Wednesday, SupChina published our oped calling on the Biden administration to restore the China and Hong Kong Fulbright programs, both terminated by the Trump Administration's July 14, 2020 Executive Order. As we noted in the article, prior to that termination, the United States had been sending approximately 200 Americans every year to China on the Fulbright program and China was sending more than 100 Chinese citizens to the U.S. as Fulbrighters. Since the United States resumed diplomatic relations with the People's Republic of China in 1979, the United States has sent 3,556 Americans to China on a Fulbright and China has sent 1,545 Chinese scholars to the U.S.
These numbers come from an analysis of the Fulbright annual reports, published between 1978 and 2016, which China Law & Policy reviewed and made a summary excel spreadsheet of the number of Fulbrighters, broken down by year (see below). The spreadsheet also includes an analysis of the Chinese government's annual contribution to the Fulbright program.
The annual reports for 2004 to 2016 are available on the Department of State's Bureau of Educational and Cultural Affairs' (ECA) website here. After China Law & Policy made a request to ECA for the pre-2004 reports, ECA provided us with all the reports dating back to 1959. We have uploaded the Fulbright annual reports here from 1979 to 2003 here. Unfortunately, for the last three years the Fulbright Foreign Scholarship Board has failed to fulfill its Congressional-mandate of publishing an annual report and thus, the last report is from the 2016 academic year.
How to Read the China Fulbright Excel Workbook
You can download the Excel Workbook below or view it in the embedded document. Note that the Workbook has three sheets, the first shows the number of U.S. citizens sent to China, broken down by the various different sub-programs covered by the Fulbright program. Sheet two is the number of Chinese citizens sent to the U.S., also broken down by Fulbright sub-program. For both of these sheets, the right most column lists the total number of Fulbrighters by year. The bottom of the right most column totals the number of China Fulbrighters between 1978 and 2016.
You are welcome to use these numbers as you see fit but we would appreciate it if you could cite to China Law & Policy if you use this excel spreadsheet or the data we collected.