Part 1 of a three part series on the Chinese Media Reciprocity Act & foreign journalists in China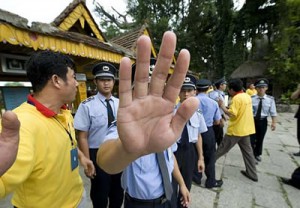 Last month, the U.S. House of Representatives' Committee on the Judiciary held a hearing on the "Chinese Media Reciprocity Act" (H.R. 2899), a bill introduced last fall by Representative Dana Rohrabacher of California.   The Act attempts to combat China's restrictive visa policies for U.S. government-employed journalists.  Instead of issuing journalist visas to most if not all Chinese journalists in the U.S., the Act would require that the number of visas issued to Chinese government journalists be identical to the number of visas that China issues to U.S. government reporters.
In reality, the impact of the Chinese Media Reciprocity Act is anything but reciprocal.  The U.S. has two government-sponsored news agencies in (or trying to get in) China: Radio Free Asia (RFA) and Voice of America (VOA); the remaining U.S. journalists in China work for private media outlets.  China on the other hand, with its state-owned media, has 13government-run agencies and over 800 media personnel working in the U.S.  If passed, within 30 days, the State Department would be required to revoke the number of visas issued to Chinese journalists to equal the number of visas issued to American government journalists in China which currently stands at 2.  The Act would all but eliminate a Chinese media presence in the U.S.
Given its extreme and inflexible nature, the Act shouldn't be passed.  But it does highlight a truly important issue: the harassment, censorship and expulsion of foreign journalists from China and raises the issue of what the U.S government should do about it.
The Act has many problems.  First, it solely focuses on China, giving it the air of a Chinese Exclusion Act.  China is not the only country which denies foreign journalists visas – a quick review of the worst countries for journalists on Reporters Without Borders' website reveals that Burma, Iran, North Korea, Syria and Eritrea similarly deny foreign journalists visas.  But this Act is exclusively about China.
Second, the rhetoric by the Act's proponents leads one to believe that they are more motivated by a Cold War mentality than a true concern about U.S. journalists' access in China.   Rep. Rohrabacher's testimony in support of the Chinese Media Reciprocity Act is filled with red herrings concerning Confucius Institutes, billboards in Times Square, and the Chinese purchase of AMC movie theaters (in order to flood the US with Chinese propaganda films).  Testimony by John Lenczowski focused more on Russian spies in the US Embassy in Moscow during the Cold War than the actual treatment of U.S. journalists in China today.
Third, passage of the Act could lead to even worse retaliation by China.  China repeatedly harasses the two VOA reporters in China (see Nick Zahn's testimony, p. 5-6) and it has consistently denied visas to RFA reporters.  Perhaps the most famous incident was when the Chinese government rescinded the RFA reporters' visas only days before they were to accompany President Clinton on his 1998 trip to China.
But other major media outlets, like the New York Times, the Wall Street Journal, NPR, and CNN, just to name a few, have reporters on the ground in China doing some hard hitting reporting.  Yes these reporters are also often harassed and are often forced to wait months for a visa or are threatened by the Chinese security apparatus that visa renewal will be denied (one of the Washington Post's China reporters – Andrew Higgins – has been waiting for a visa since 2009, forced to report from Hong Kong).   But in general, most reporters are able to renew their visas and solid reporting from China is able to make it to our shores.  But some, like the Committee to Protect Journalists, warn that passage of the Chinese Media Reciprocity Act could lead to an all out visa war, resulting in China denying a greater number of visas and exacerbating an already tense situation for foreign journalists there.
Finally and perhaps most importantly, is this who we want to be?  A free and vibrant press has been a central tenet of the United States; it was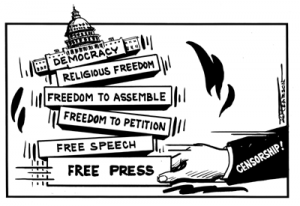 crucial to the success of the American Revolution, is encapsulated within the First Amendment, and is rarely if ever abridged.  As Americans, we understand that the press is a building block to creating a government truly accountable to its people; unfettered press access is an important goal in and of itself.
In recent years, China has seen some developments in a more professionalized and freer press.  Yes, the Chinese press still has to take its most of its cues from the Chinese government, but there has been some development in more real reporting (see Susan Shirk's Changing Media, Changing China
).  But by essentially eradicating the Chinese press from U.S. shores, the Chinese Media Reciprocity Act undermines our goals of this burgeoning freedom of the press in China.  Even the reporters harassed by the Chinese government do not agree with such actions.  Peter Ford, president of the Foreign Correspondents Club of China ("FCCC"), told China Law & Policy that they "do not support efforts to restrict press freedom in one country in an effort to improve press freedom in another.  We remain committed to freedom of the press."
But all the attention surrounding the Act raises the issue of Beijing's treatment of foreign journalists.  Is there anything the U.S. can do to change what appears to be the Chinese government's increased harassment of foreign journalists?
12 Responses to "What is Wrong With the Chinese Media Reciprocity Act"