Last Wednesday, November 4, the European Union, the United States and Mexico filed a complaint with the World Trade Organization (WTO) against China for its quotas, export duties and minimum export prices for raw materials essential to the manufacture of steel and aluminum.  Noticeably absent from the complaint though, is any mention of China's restriction on rare-earth elements.
The raw materials at issue in the WTO complaint, while important to key manufacturing industries in the US and the EU, in many ways represent the economy of old.  Rare-earth elements, which China also heavily restricts export of, represent the economy of tomorrow; many of these rare-earth elements are indispensable for a greener, more environmentally-friendly world.  The magnetic properties of rare-earth elements like dysprosium and terbium are important for wind turbines and essential for the production of long-lasting, light-weight batteries for electric cars.
China, and its rare-earth enriched Inner Mongolia, account for 93% of the global production of rare-earth elements and 99% of the world's dysprosium and terbium.  While countries have sought to expand green technologies, thus increasing the demand for rare-earth elements, China has continued to restrict the amount exports of rare-earth materials.  This past September, China, for the third year in a row, lowered the amount of rare-earth materials allowed for export by 6% overall, double-digits though for certain rare-earth materials .
China wants not just the monopoly on the production of rare-earth materials, but also on the more profitable business of producing down-stream products like electrical cars and wind turbines.  Japan, which is the largest importer of rare-earth materials because of Toyota and Honda's drive to expand the market for hybrid and electric cars, feels the biggest pinch of all.  In fact, Japan purchases from a fifth to a quarter of its rare-earth materials on the black market, a black market where Chinese sellers thwart their own government's restrictions.
In addition to its own domestic production, China, with its large foreign reserves to spend, has attempted to be a controlling share holder in other countries' rare-earth industries.  Last spring, Chinese government-controlled mining companies purchased a 25% share of Australian rare-earth mining company Arafura.  China's offer to purchase 51% of another Australian rare-earth mining company, Lynas, was likely going to be denied by the Australian government because of the Chinese government's mishandling of the Rio Tinto case and the detainment of Australian citizen.  The Chinese mining company pulled out of the deal before it could be denied by the Australian government.
After China's CNOOC's failed bid to purchase California oil company Unocal in 2005, CNOOC  made overtures to purchase a single asset of Unocal's: Mountain Pass, the U.S.' only rare-earth mine.
Thus, the future of some green technology is beholden to China.  But Japan, instead of investing in China's rare-earth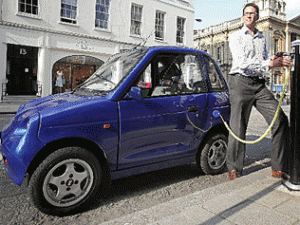 elements industry, is looking to invest elsewhere – likely because of the danger in investing in a country with a fickle commitment to rule of law.  Japan has signed a deal with one of Kazakhstan's largest mining companies for rare-earth excavation and is looking to Australia, Canada, Vietnam and the U.S. as alternate suppliers.  However, it will take at least 10 years before any of these new mines will produce rare-earth materials.  Until then, anticipate delayed development of green technologies and hopefully a WTO complaint.
By