Just for Fun ("JFF") is a sporadic series on China Law & Policy where we take a break from the more serious aspects of China's development. JFF often features movie reviews, restaurant reviews, art reviews, or anything else that could be considered "fun."
For many of my friends, I am their "China person." Questions about Chinese politics, questions about Chinese culture, questions about good Chinese restaurants, they all come to me.  But it is the latter – good Chinese restaurants – that I feel most obligated to answer correctly.
So when my friend Tanya randomly said to me "I want good Chinese noodles," I went to work, researching and asking friends who work in Manhattan's Chinatown, what was there number one pick for noodles.  One name that kept coming up was Yiwanmen, or in Chinese characters, 一碗面, "A Bowl of Noodles."  Seemed like a must try.
Yiwanmen, on Mott street in Manhattan's Chinatown, has the look of a faux hole-in-the wall spot, with wood paneling on the outside in an attempt at making it look old even though it opened in 2017.  Inside, a small dining area with three tables and a few side seats, its clear that Yiwanmen is too clean to be a true hole-in-the wall.  But don't let that distract you from the noodles, which are delicious, authentic and not to be missed.
Yiwanmen makes the smart, strategic decision of not offering too many noodle dishes, a total of 11 with only six being noodle soups.  And while Yiwanmen presents itself as a Chongqing noodle spot (it's chef is from Chongqing), my eyes – and stomach – gravitated to its more northeastern noodle fare, namely the hongshao beef noodle soup. Hongshao, a type of slow braising technique using fermented bean paste common in northern and eastern China, is not usually associated with Chongqing, a city smackdab in the middle of China that embraces Sichuan spicy as its flavor of choice.  Should I go with something outside of the chef's native city?  I decided to take the risk. I ordered the hongshao. 
And thank goodness I did.  The pieces of beef explode with the sweet, savory flavor of the hongshao, and because it was slow cooked, the beef melted in my mouth, making chewing largely optional.  The broth, a touch greasy, was flavorful withfresh cilantro and the noodles were perfect – not too chewy and they did not stick together. The chef may be from Chongqing, but he obviously is a master of all of China's noodles.  Although one noodle not on the menu is the famous thick, pulled noodle (la mian, 拉面) of northwest China.  But given the ubiquitousness of those noodles throughout Chinatown these days, it was nice to find a place that shined the spotlight on China's other noodles.  And at $9 for a big bowl of noodles, Yiwanmen is at the perfect price point. 
My friend also ordered the jianbing, a crepe-like sandwich sold on the streets of Beijing.  I have never been a fan of jianbing so I cannot speak to whether Yiwanmen makes a good one.  But if it was me (and hopefully it will be me again very soon at Yiwanmen), I would stick with the noodles.  The fact that the place is called "Bowl of Noodles" in Chinese and not "Plate of Crepe-like Sandwich" is telling. 
One thing to do before you go – make sure you aren't wearing your nice clothes, like my friend who wore her silk dress.  Drops of noodle soup just gets on you even if you try to be careful.  Other choice is to wear a bib.  But no matter what, when you are in the mood for noodles, get yourself to Yiwanmen. 
Rating:





Yiwanmen
150 Mott Street (between Grand & Broome Street)
New York, NY 10013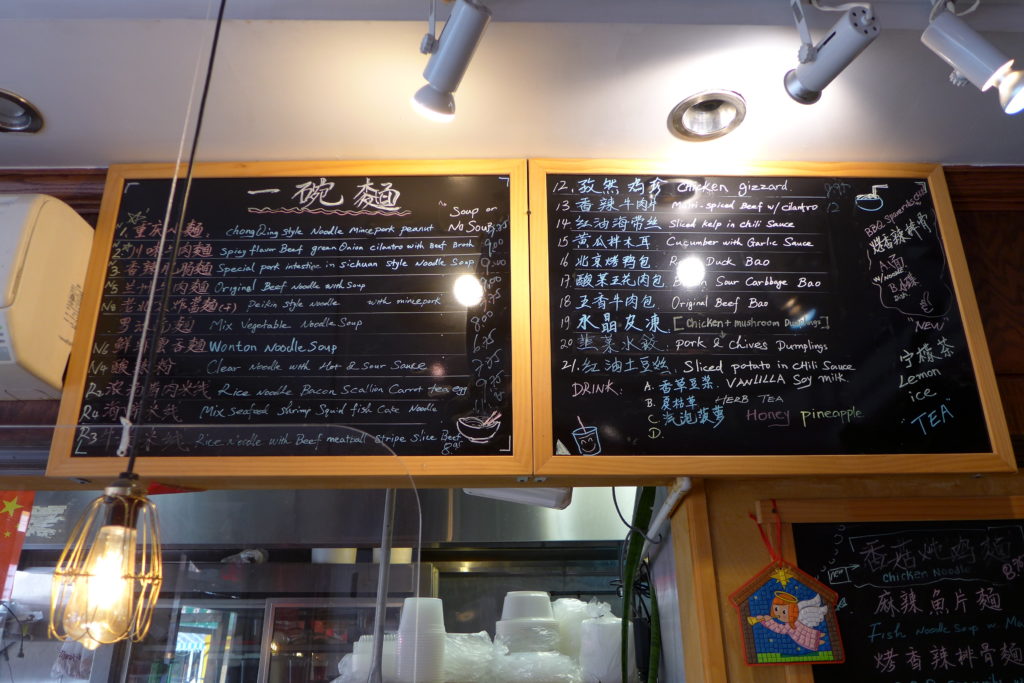 By