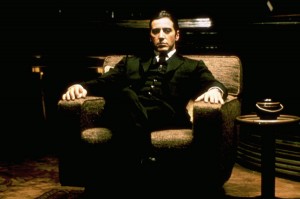 While I like the Godfather movies as much as the next person, it's always strange when personal vendettas make it onto the world stage.  But that is what appears to have happened on Monday when the Chinese government failed to renew New York Times reporter, Chris Buckley's journalist visa before it expired on December 31, 2012.
Although the Chinese Ministry of Foreign Affairs remains mum* as to the precise reason why it failed to renew Buckley's visa – which he had been attempting to renew since October – most in the Western media suspect that it is pay back for the New York Times' series on the enormous sums of wealth and key investments acquired by Premier Wen Jiabao's family.
In China Wen is very much known as a man of the people – his mother was a teacher and his father a pig farmer and as a result, the people actually like him.  Unlike the other aloof leaders who rarely if ever smile for the cameras, the Chinese people feel a bond with "Grandpa Wen."  During public crises – natural disasters, train wrecks –  Wen is the man the government sends to relate, and more importantly, to calm an angry public.  In many ways, Wen's image is important to the legitimacy of the Chinese Communist Party's rule.
But on October 25, 2012, the New York Times questioned the veracity of that image.  David Barboza, the Times' Shanghai bureau chief, reported
that since emerging on the national stage in 1998, Wen's humble roots fell by the wayside,  at least in terms of his family's myriad books of business.  While none of the wealth is directly held by Wen, Barboza detailed the estimated $2.7 billion held by members of Wen's immediate family.
The Chinese government did not take kindly to the article, blocking the New York Times website (which almost three months later remains blocked) and stating that Barboza's article "smears China and has ulterior motives."
A month later – on November 24, 2012 – the Times published Barboza's second damming article on Wen.  The piece documented and insinuated Wen's role in preventing the legally-mandated break-up of one of his family's key holdings – Ping An Insurance.   Evidently, the Times did not heed the Chinese government's rather public warnings.  Is the failure to renew Buckley's journalist visa payback?
This would not be the first time the Chinese government has used the visa process to punish foreign journalist.  In the past year, visa renewal troubles have become an increasing problem for foreign reporters in China.  In July, China Law & Policy ran a three-part series on this problem (Part 1 here; Part 2 here; Part 3 here), noting that in 2012 a third of members surveyed by the Foreign Correspondents' Club of China had difficulty renewing visas.  The majority of those journalists believed – or in some cases were told – that their difficulty was a result of specific reporting.
In May, Al Jazeera's correspondent, Melissa Chan, who had covered many of China's sensitive topics, was expelled from China after the government closed the Al Jazeera Beijing Bureau.  In September, Andrew Higgins, the Washington Post's China chief who had been waiting in Hong Kong for accreditation from Beijing for the past three years, finally left his post and took a job covering Europe for the Times.  And since March 2012, Philip Pan, author of the amazing Out of Mao's Shadow
which details the growing inequalities in China, has been waiting for accreditation from Beijing.   If Higgins' situation is a guide, Pan should not hold his breath.
Fortunately for the Western public, this attempted censorship has not hurt China coverage.  Hard-hitting stories are still being covered even with the continued visa harassment.
But the question remains, will this get worse?  Four reporters in one year alone – Chan, Higgins, Pan and Buckley – have been permanently impacted by the Chinese government's revengeful visa policies.  Will the Chinese step-up the use of this tool?  Will eventually all New York Times reporters find themselves in Buckley's boat?
In a country like China, where the domestic media is controlled and censored by the government, the foreign press offers an alternative – and at times more real – perspective of what is happening in China.  This doesn't just benefit the Western audience but also benefits the Chinese public.  The stories that foreign reporters cover are stories that the Chinese people want to tell and cannot currently tell their own press.
Additionally, given the increasing fluency in English of the Chinese youth, some of them are reading these articles.  On my last visit to China, a Chinese law school student lamented about the recent blocking of the New York Times website and his inability to know what is happening in China.
Finally, some of the exposés that are originally covered by the foreign media are eventually picked up by the Chinese press and produce change.  Melissa Chan filmed her report on China's black jails in April 2009; in November 2009, a Chinese magazine ran a similar expose.  Last month, a court in Beijing heard a case brought by victims of black jails, signaling perhaps the Chinese government's willingness to eliminate abusive black jails (in China courts will only hear cases pertaining to certain issues if the government or the Party permits it).
In the United States, the media has often been viewed as the fourth branch of government – the media provides an important level of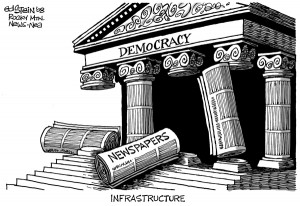 transparency to our political system.  In a one-party authoritarian country, that transparency can only be provided by the foreign press.  The United States spends millions of dollars of "rule of law" and democracy projects in China.  But supporting the work of foreign correspondents in China, at least verbally, is equally as important a tool to achieve those goals.  As we noted in our July series, it is imperative that the U.S. government publicly address and admonish the Chinese government's attempt to censor the foreign press through the visa renewal process.
U.S. government officials often lament that with China, there must be closed-door diplomacy; the Chinese take "face" very seriously.  But to the extent that the U.S. government has been conducting this type of diplomacy concerning foreign reporters in China, here's a news flash – it's not working.  Things are only getting worse for foreign reporters and as a result, for the Chinese public.  In Melissa Chan's case, the State Department, through a press person, just said that it was "disappointed" with what happened.  If ever you wanted to give the Chinese government a signal to continue to harass foreign reporters, such a tepid response was likely it.  As a result, it's vital that a high-up official at the State Department publicly comment on what is happening to Buckley, Pan and countless other foreign reporters in China.  It's time the U.S. government to publicly articulate one of our key values – that a free press, here a free foreign press, is an important human rights issue.
——————————————————————————————————————————————————————–
* On January 3, 2012, the Ministry of Foreign Affairs broke its silence stating that Chris Buckley's visa application is still under consideration.  See news report here.  Actually addressing this a good thing for sure, but there will be no step forward until Buckley's visa is renewed and Philip Pan is finally accredited.  Pressure on the Chinese government should not stop just because of this statement.
5 Responses to "Vendetta as Diplomacy – China Fails to Renew NY Times Reporter's Visa"