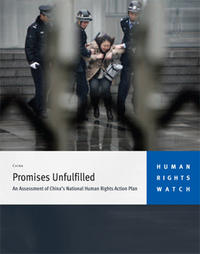 In April 2009, the Chinese government released its first  National Human Rights Action Plan (2009-2010) ostensibly to better protect the civil rights and civil liberties enshrined in the Chinese Constitution, such as the right to a fair trial, the right to question the government and the need to eliminate torture in police interrogations.  With such a bold plan, the question remains – how did China do in fulfilling the promises of its first Human Rights Action Plan. 
Human Rights Watch ("HRW"), in its recent report, "Promises Unfulfilled: An Assessment of China's National Human Rights Action Plan," attempts to answer that question and to explain how a country which promotes economic freedom has seen a recent regression in terms of civil liberties. 
HRW China researcher Phelim Kine will present the findings of "Promises Unfulfilled" in a discussion at Seton Hall School of Law in Newark New Jersey on February 9, 2011.  Hosted by Chinese legal expert and Seton Hall Law Professor Margaret K. Lewis and with participation from the Open Society Institute's China Program Director, Thomas Kellogg, the discussion should prove to be an interesting conversation of an issue that was front and center at President Hu Jintao's recent visit to the U.S.  RSVP is appreciated (http://law.shu.edu/chinahumanrights). 
And just as a shout out to HRW – their reports are pretty amazing and there are only a few other organizations that are able to produce such accurate and informative reports regarding what's happening on the ground in China.  Phelim Kine is not to be missed!
Wednesday, February 9
1:45 p.m. – 3:45 p.m.
Seton Hall School of Law
1109 Raymond Blvd.
Newark, NJ
RSVP here: http://law.shu.edu/chinahumanrights
Directions: Seton Hall School of Law is a 5 minute walk from Newark Penn Station which is accessible from NYC via the PATH train or NJ Transit.  More specific directions can be found here – http://law.shu.edu/About/Directions.cfm
By