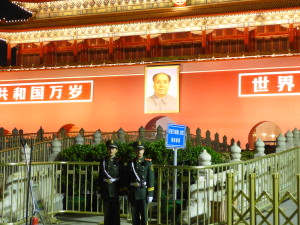 Last week, Young China Watchers asked a question that many who study China's legal development have been grappling with: how to gel the Chinese government's call for greater judicial authority, announced at October's Fourth Plenum, with its current crackdown on anti-corruption and civil society.  China Law & Policy was fortunate to be invited to comment on this important question along with Jeremy Daum, senior research fellow at the Yale China Law Center, founder of China Law Translate, and recent participant in a China Law & Policy interview.
While we both reached the conclusion that these two phenomena – a call for judicial reform and the current crackdown  on civil society – are not mutually exclusive, we came at it from very different directions.
Jeremy Daum: "Far from constraining the Party's power, these legal reforms are designed to reinforce the legitimacy of Party rule by creating more complete and effective mechanisms for the implementation of Party policy through all levels of government……The leadership's ongoing concern with stability, which includes not just preventing social unrest, but also maintaining continuity of Party rule, resists the development of such perceived alternative sources of influence in civil society. 
Elizabeth M. Lynch: "[W]hat we are seeing are not necessarily two mutually exclusive ideas.  Instead, it is the reflection of the increased dominance of the public security forces. The Party's calls for judicial independence – eliminating local government control of the judiciary and seeking to appoint legal professionals to the judiciary – can still occur even as this crackdown is happening since the proposed rule of law reforms do nothing to reign in the public security forces…."
The discussion, which can be read in its entirety here, proved an interesting one and even I don't know who is right.  Feel free to read for yourself and offer any comments!
Read the Full Text of the Young China Watcher's Conversation by clicking here.