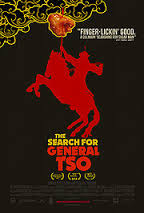 General Tso is only one of the many fascinating characters that appear in this charming documentary that seeks to uncover the origins of one of America's favorite dishes: General Tso's Chicken. But The Search for General Tso is more than just a story of a dish central to America, it also recounts the history and struggle of those who make the dish.
General Tso starts simply enough, asking how did Chinese food become so popular in America and who was this General Tso. It's that question – and uncovering how the dish came into being – that takes the movie across America, to China and eventually landing in Taiwan. But through that journey, the director – Ian Cheney – deftly interweaves the story of the Chinese in America. Unlike General Tso's Chicken, that story is not always tasty.
Cheney interviews various historians and academics who explain how a people that represent a little less than 2% of the U.S. population have restaurants in almost every city, town, and village in America. Unfortunately, the explanation is often tied with our prejudice. By the late 1800s, with anti-Chinese laws and bias in California, Chinese
could not find work and were driven into the laundry and restaurant businesses. Many left California in the hopes that other parts of the United States would be less prejudiced. But as the story of David Leong demonstrates, that was often a misplaced hope. A World War II veteran, Leong moved to Springfield, Missouri to open a Chinese restaurant. In 1963, his new restaurant was bombed days before it was set to open. Leong would eventually find acceptance and popularity after inventing Springfield Cashew Chicken, but his story recounts the prejudice and violence that many Chinese-Americans faced.
But the movie leaves you with hope. The characters are poignantly portrayed -from the collector of Chinese menus (one from 1916!), to the man who travels the United States in an attempt to eat at every Chinese restaurant, to Cecilia and Philip Chang (of P.F. Chang fame), and finally to the chef who invented the dish. And each demonstrates that the love of this dish transcends race and that maybe, just maybe, has brought us all a little closer.
Rating:





*************************************************************************************
The Search for General Tso will be showing in select theaters throughout the United States this weekend. A complete listing can be found on the movie's website: http://www.thesearchforgeneraltso.com/
The movie can also be easily downloaded through iTunes or Amazon Instant Video.