It's 2015.  The immediate danger of climate change is apparent; rising sea levels in some countries, drought in others; countries on the brink of war due to shortage of food; governments that have existed for more than five centuries are toppling.  In this scenario, how would leaders in the United States, India and China respond?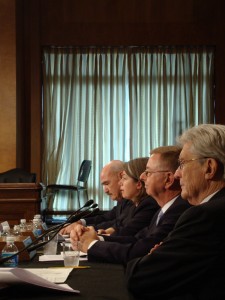 This is no longer a theoretical question.  In testimony Tuesday before Congress on "Climate Change and Global Security," Sharon E. Burke of the Center for a New American Security (CNAS), reported on a recent "climate change war game" that CNAS sponsored and which included representatives from the U.S., Europe, China and India.  Similar to war game simulations that countries' militaries periodically organize, CNAS set up a dire climate change simulation to see how these countries would respond.  Ms. Burke testified that the responses in their simulation have thus far been accurately reflected in the current stalemate among the U.S., China and India.  In CNAS' climate change game, India staunchly refused to agree to specific targets to carbon emissions, a sentiment that was recently shared with Secretary of State Clinton on her trip to India.  However, the CNAS simulation found that India was willing to negotiate on other issues.  Because they perceived their country as vulnerable to natural disasters, India was willing to concede certain things.  Ms. Burke also commented that the climate change game also showed that concessions made by the U.S., although provide the U.S. greater credibility, were not as important to other countries as the behavior of China.  However, in the simulation, China was not willing to concede to anything unless more developed countries financially supported their efforts.
While the countries in the CNAS climate change game were unable to reach an agreement, Ms. Burke was not willing to give up all hope.  Instead, she urged that the CNAS simulation be used to alter the current negotiations, negotiations that are obviously going nowhere.  The past has shown that the U.S. and China can reach agreement on issues even more complex than climate change (e.g. thermo-nuclear war) but policy makers need to find the commonalities between the two countries.  For China, climate change is a national security issue – currently there is great unrest in China due to environmental damage so they have as much of an interest as the U.S. in reducing the threat of climate change.  In a follow up with Ms. Burke after the hearing, she maintained that negotiators need to find a Plan B; we cannot continue with the current dialogue.  And although Ms. Burke thought that perhaps Plan B will not emerge until after the U.N. Climate Change Conference in Copenhagen, many policy makers have begun to realize that a Plan B is necessary.
To watch a full video of the hearing, please click here (starts at 30 minutes, 22 seconds in).
One Response to "Climate Change War Games!"