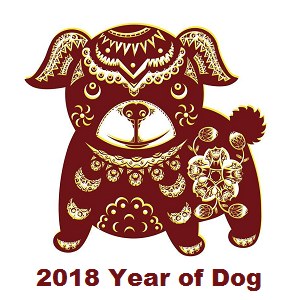 On Friday, about a quarter of the world's population will sit down with their families, eat a good meal and celebrate the most festive of holidays in Asia: the Lunar New Year.  While most associate the holiday with China, various other countries and cultures also celebrate it – South Korea, North Korea, Vietnam, Taiwan, Hong Kong, the Philippines and Asian communities throughout America.
But Friday does not just usher in a new year, it also brings in a new animal in the 12 animal zodiac.  And with the new animal, a new year of speculations and predictions.  This year is the Earth Dog which, with the earth element, is particularly auspicious since the dog's internal element is also earth.  With earth reinforcing earth, it will reinforce the good.  But it will, unfortunately, also reinforce the bad.
If you are having a baby during this Earth Dog year, well then, lucky you!   A dog is loyal, compassionate, and values morality and justice; an easier kid to raise than a dragon or a tiger.  But a dog can also be "highly dependent, suffer from imaginary fears, and sometimes self-reclusive and silent."
Thus, it should come as no surprise that the current U.S. president is a dog.  And that is the greatest fear for most Chinese feng shui masters for 2018.  In general, it is not good luck when the year matches your sign.  For dogs, to ward off the bad luck during this dog year, you should look to wear something red for most of the year – a red bracelet, red underwear, red socks – as red is seen to drive away bad luck.  But for Donald Trump, that likely will not be enough.  That is because Trump is a Fire Dog, and fire and earth clash.  According to Feng Shui Master Thierry Chow, "The elements are too much fire [in Trump] and too much earth [in 2018], so that's going to be causing him imbalance in his fortune." According to Chow, expect Trump's fiery rhetoric to bring about "real problems" and tangible consequences.  Chow didn't say if that also includes his tweets.
Trump aside, the question still remains – what about your horoscope for the year?  That is dependent on how your birth sign deals with the Earth Dog. Check out your personal horoscope here (note you may have to do a Bazi test to determine the strength of your birth year element.  You can do that here).
But no matter what the future may hold, may you spend Friday ringing in the new year with family, good friends and delicious food!  To our Chinese friends who celebrate the new year,新年快乐 (sin knee-an k-why le)!
By