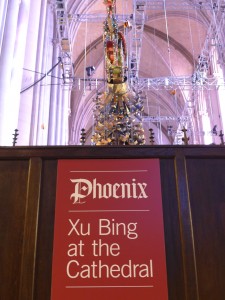 There are those pieces of art that are truly transformative; that can change the way you see the world and remind you of the humanity of this united struggle we call life.  Picasso's Guernica is one such work.  Now there is Xu Bing's (pronounced Sue Bing) recent installation – Phoenix.
Housed in New York's Cathedral of St. John the Divine, Phoenix is nothing less than iconic.  Back in 2008, Xu, who had just returned to Beijing after 18 years in New York City, was commissioned to create an art installation for a glass atrium in Beijing's soon-to-be-completed World Financial Center.  It was Xu's visits to the construction site that proved to be the inspiration for the work.  After seeing the paltry conditions for the migrant construction workers and the primitive construction techniques, Xu used much of the scrap left over from the site to create two massive and powerful phoenixes, an homage to those nameless workers who built one of Beijing's most modern skyscrapers.
For those who have spent time in China, the materials that create the birds' gritty skeletons are familiar: faded red, white and blue plastic tarps serves as wings, bamboo poles as the ribs, and old hand cement mixers for the birds' heads.  But the message of these phoenixes is fresh.  As one of my companions noted, the simplicity of birds' frames monumentalizes the laborers and workers who built one of Beijing's fancier skyscrapers and who have largely been left behind.
But this was not a message that Beijing was ready for.  Reflecting how far removed the People's Republic is from its socialist
rhetoric, the real estate mogul who commissioned the work requested that Xu cover the phoenixes' rough frames  with nothing less than crystals.  Fortunately, Xu, schooled in the Socialist Realism style, refused to change his art.
Since 2010, the Phoenixes, and Xu's homage to those invisible workers who have literally built China's new society, have traveled around the world.  But seeing the Phoenixes suspended in flight in the nave of a Gothic cathedral is truly spectacular.  It elevates an amazing piece of art – and the message that infuses it – to an almost sacred and divine realm.  As we walked the nave this past Sunday, studying all the construction site scraps that created the birds,  the choir practiced at the altar, giving the phoenixes an angelic feel.
Phoenix is on display through 2014 and should not be missed.  Admission to Cathedral is free but a suggested donation of $10 is politely requested (and well worth it to help support this piece as well as the Church's important community outreach and services).
By