Originally Posted on Foreign Policy Digest
China no longer needs to worry about the U.S. as a serious green technology competitor because the U.S. just left the race. After a year-long impasse, Senate majority leader Harry Reid confirmed on July 22, 2010 that the Democrats would not be able to secure enough votes to pass the American Clean Energy and Security Act and, thus, would abandon any further efforts to do so.
But, in today's globalized economy, rising powers like China are willing and readily able to capitalize on America's missed opportunities. The climate change bill would have provided a coherent U.S. energy policy, directed investment to green technology and created much-needed American jobs. Instead, those investment and job opportunities will likely go to China. With China's rapid expansion into the clean technology sector, the U.S. is being left behind and leaving many to wonder–will it ever be able to catch up?
BACKGROUND
Although the U.S. debate on climate change dwells on the prevention of environmental damage, the Chinese government focuses on the economics of climate change, emphasizing the direct link between clean technology and China's energy security and economic competitiveness. Former Center for American Progress senior policy analyst Julian Wong explained in a recent testimony before the U.S.-China Economic and Security Review Commission that China's emphasis on the economic upside of clean technology has imbued its energy policy with a greater sense of urgency, allowing the country to surpass the U.S. in many renewable energy industries.
With over 4,000 miles of track laid domestically, China is the leader in high-speed rail.  It has pledged $300 billion to bring high-speed rail to many parts of the country and is exporting its expertise to Turkey, Venezuela, Saudi Arabia and potentially, even California. Notoriously stingy at funding its rail system, the U.S., on the other hand, has pledged a relatively paltry $8 billion and has only one high-speed rail line. Instead of developing cleaner rail technology, the U.S. continues to develop carbon-intensive modes of transportation, investing in highways and air transit.
China has also become a global leader in the renewable energy sector. As the leading manufacturer of solar panels,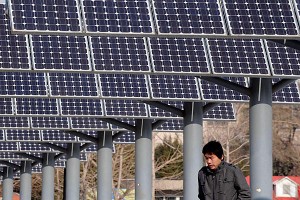 China exports most of its solar panels overseas. As for wind, China installed the largest number of wind turbines in the world in 2009, expanding its wind capacity by 13 GW. By contrast, the U.S. only expanded its capacity by 10 GW in 2009. But, China's prowess in renewables should not come as a surprise. In 2009, China invested $34.6 billion in green technology, making it the leader in renewable energy funding; the U.S. came in second, investing $18.6 billion.
Some critics argue that the Chinese government has an unfair advantage because an authoritarian system can funnel money easily to industries it wants to promote. The largest commercial banks in China are state-owned and–at the insistence of the central government–have provided ample low-interest loans to green technology companies. The U.S. market economy, on the other hand, cannot require American banks to give out favorable loans. Furthermore, China has used protectionist policies, like its "indigenous innovation" policy, to promote home-grown companies at the expense of foreign ones.
ANALYSIS
While some of these arguments are reasonable and should be addressed in trade talks with the Chinese, their importance in explaining the U.S.' second-fiddle status is exaggerated. The criticisms serve only to obscure the real issue behind the U.S.' downfall in the green technology sector – the lack of a coherent national energy policy. In the U.S., the climate change debate too often ignores the important role of government in promoting emerging industries within the capitalist framework and cooperating with the private sector. Silicon Valley, for example, flourished because of government support and its close ties to government, particularly the defense agencies. To attribute China's competitive edge to its planned economy is to suggest that capitalism and free markets are what hinder the U.S. ability to be a viable competitor in the global green technology market. But, American history shows that government support bolsters innovation.
Capital will flow to where there is some level of certainty in investment. Venture capitalists are sinking their dollars into China's green technology because the Chinese government has a crystal-clear policy, which it has backed by huge investments in renewable energy–sure signs of a government's sincere commitment to promoting green tech. These investors are also receiving huge returns on their Chinese investments.  China's richest person is now believed to be Wang Chuanfu, founder and chairman of BYD, a battery and electric car company in China.
Furthermore, it's not just Chinese capital that is flowing. This September, Chinese wind turbine manufacturer Mingyang Electric will seek to raise $500 million in an initial public offering in the U.S. If the U.S. wants that capital to remain within its borders, the federal government needs to make an equally strong commitment to renewable energy. Until Congress passes some sort of legislation signaling its commitments to certain industries, capital–even U.S. capital–will continue to flow to China and green technology innovation in the U.S. will remain at a standstill.
In his testimony, Julian Wong raised the crucial point that, although the U.S. still leads China in green technology research and development (R&D), eventually, those R&D dollars will want to move to China, too. By its nature, R&D needs to be geographically close to its manufacturing base, as well as to the end users of its products. In fact, some U.S. companies–including important players like Applied Materials, DuPont, and IBM–have already begun to move their green tech R&D to China.
China has clearly surpassed the U.S. in key green technology industries and has established the economic infrastructure to lead the green technology market. Instead of trying to stay on the offensive, Congress has defensively decried China's authoritarian government and indigenous innovation policies and aroused fear of China's threat to American economic dominance. Aside from rhetoric, it is unclear what substantive actions Congress is taking to make the U.S. green technology sector more competitive. If the U.S. followed China's example in passing green tech-friendly policies, it may be able to catch up. But, by ignoring that possibility and abandoning any hopes of climate change legislation, Congress has, instead, opted out of the green technology race. Unfortunately, the only losers in Congress' ill-fated decision are the American public and the millions of Americans still out of work.
By