Originally published in Commonweal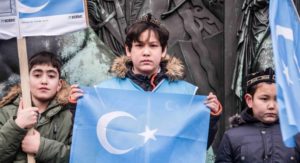 Early last December, a group of nine British lawyers and human-rights specialists gathered in a wood-paneled room under the glass dome of Church House, near Westminster Abbey in downtown London. They were there to do what the United Nations and its member states have so far failed to accomplish: conduct a thorough review of five years of evidence regarding the Chinese government's persecution of its minority Muslim Uyghur population in the province of Xinjiang, a sprawling semi-autonomous territory in northwest China. On December 9, after hearing days' worth of live testimony and poring over thousands of pages of expert reports, as well as published regulations of the Chinese government and other leaked documents, the independent Uyghur Tribunal pronounced its verdict. It found the Chinese government guilty of crimes against humanity and genocide of its Uyghur population.
Such an important determination should not have taken this long, nor should the judgment have fallen to a people's court. Since 2017 the world has known—through media reports, academic studies, and witness testimony—that the Chinese government has summarily interned more than 1 million Uyghurs and other Turkic Muslims in Xinjiang concentration camps. . . .
To continue reading click here.
By