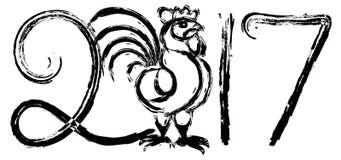 On Saturday, the world will awake to the crow of the rooster as most East Asian countries mark the beginning of a new year: the year of the rooster.  But this is not just any old rooster; instead, it is the year of the fire rooster and it is that fire rooster that is causing many Chinese Feng Shui masters to predict that 2017 will be a tumultuous year.
Asian lunar new year, also known as the Spring Festival in China, doesn't just usher in a new animal in the 12 animal zodiac, it also brings forth a new element.  In addition to being associated with an animal, each year is also associated with one of the five astrologic elements (metal, wood, water, fire and earth).  For 2017, that element is fire.  But at the same time, each zodiac animal is independently associate with one of the five elements.  And a rooster is metal.
So, you have a metal animal in a fire year.  According to Feng Shui master Raymond Lo, this just produces all sorts of ugly as fire conquers metal, making for a destructive relationship and causing disharmony in the year to come.  For Lo, "it will not be surprising that there will be serious explosions, fire disaster and war in 2017."  Noted Feng Shui master Joey Yap is also on the same wavelength, remarking that with a metal rooster in a fire year, 2017 will be "dominated by challenges, fierce competition and scarcity of resources."  As if on cue, the PBS Newshour just ran a story that water may soon become unaffordable for one-third of Americans.
But just because the world might be going to pot doesn't necessarily mean that your life will.  How you fare in the fire rooster year is dependent on how your birth sign deals with the rooster. Check out your personal horoscope here (note you may have to do a Bazi test to determine the strength of your birth year element.  You can do that here – note that birth date is entered day-month-year).
But it might not all be bad.  In past fire rooster years, good things have happened. In 1897, aspirin was invented; 1957 saw the production of West Side Story as well as the formation of band the Quarryman with John Lennon and Paul McCartney, essentially the predecessor to the Beatles.
For those having a baby in year of the rooster, expect a faithful, reliable yet ambitious child, quick to speak and express his opinions. But budget a lot for clothes.  Roosters are known to dress up and be meticulous about their appearance.  Elton John, Bette Midler, Kate Middleton – all roosters
Whatever Year of the Fire Rooster may bring, may you celebrate the new year with family, friends and good food!  To all our Chinese friends who celebrate the new year, 新年快乐 (sin knee-an k-why le)!