Last month, while another U.S. journalist was packing his bags, forced to leave China, the U.S. Senate was poised to hold the confirmation hearing for Max Baucus, the Administration's nominee to replace Gary Locke as ambassador to China.  You would think that central to the Baucus hearing would be the issue of journalist visas, or at least it would be mentioned by the candidate himself as a troubling development.  But you would be wrong.   Instead, after a December where the issue of U.S. journalists in China reached crisis level, Congress reverted to its shortsighted old ways, barely even raising the issue.
But, as the recent expulsion of the U.S. journalist clearly demonstrates, such a lackadaisical approach is increasingly dangerous as the Chinese government attempts to develop a more sophisticated response to try to maintain control of foreign journalists and U.S. media outlets through the visa process.
New York Times Reporter Austin Ramzy Effectively Expelled from China
For ten years, Austin Ramzy diligently covered Asia and China for Time Magazine, first out of Hong Kong and then since 2007, out of Beijing.  While his pieces were thought-provoking for a Western audience, they were hardly the type that would illicit anger from the Chinese government.  There were no articles exposing government officials' vast wealth and while Ramzy did report on certain human rights issues in China, those articles were interspersed among other more general pieces.  In other words, he was likely not on the Chinese government's target list in terms of renewing a visa.
But Ramzy's status changed when, in April 2013, he took a job with the New York Times.  Since October 2012, when it published a Pulitzer-Prize
winning series on former premier Wen Jiabao's questionable role in his family's lucrative business holdings, the New York Times has become the Chinese government's Enemy Number One.  Its website, including the Chinese-language portion, has been blocked in China, its U.S. website allegedly hacked from China, and every December, when it comes time to renew their visas, the New York Times China correspondents have faced excessive delays and effective expulsion.  The New York Times Fall 2013 coverage of the U.S. investigation into J.P. Morgan's cushy ties with the children of China's government elite, including the daughter of Wen, likely did not help its situation.
Ramzy's visa troubles began almost as soon as he started working for the Times.  Although Ramzy had a journalist visa good through the end of December 2013, because he switched employer, under Chinese law, Ramzy was required to first apply for a new press card with the Chinese Ministry of Foreign Affairs ("MOFA").  Once issued, Ramzy then, with his new press card, would be required to apply for a new journalist visa and residency permit with the Public Security Bureau ("PSB") to reflect his new employer (see Regulations on News Coverage by Permanent Offices of Foreign Media Organizations and Foreign Journalists -"Foreign Media Regs" – Art. 10).
But, according to a source familiar with the matter, MOFA began giving Ramzy a hard time from the beginning.  For two months, the Beijing MOFA office refused to accept his press card application, informing him first that he would have to apply through Hong Kong, and then informing him that it would have to be through the New York consulate.  However, Article 10 of the Foreign Media Regs clearly states that the application can be made within China and directly to MOFA.
As the source told China Law & Policy, it was not until June 2013, two months later, that MOFA finally accepted his press card application.  But MOFA would sit on Ramzy's application, and come December 2013, Ramzy was part of the New York Times contingent that was almost effectively expelled en mass when MOFA failed to process any Times correspondents' press card applications and renewals.
While the pressure from the Obama Administration, in particular Biden's December visit to Beijing where he publicly raised the issue, appeared to have averted the de facto closure of the Times' China bureaus, Ramzy seems to be the lone casualty.  Ramzy's vulnerability likely came from the fact that he was the only New York Times correspondent who was hired in the middle of the year.  For some reason, MOFA processes "new" applications for a press card with a news agency differently than a mere renewal of the press card for a reporter that continues to work for the same news agency.  This is what happened to New York Times correspondent Chris Buckley the year before.  Like Ramzy, Buckley took a job with the Times in October 2012 but MOFA failed to process his press card.  When his prior journalist visa and residency permit expired on December 31, 2012, Buckley was forced to leave China.  For the past year he has been reporting for the Times from Hong Kong while MOFA allegedly is still processing his press card application.
Similarly, by the end of this December, without a press card, Ramzy was unable to apply for a new journalist visa.  His prior visa and residency permit was set to expire on December 31, 2013.  At the end of December, MOFA provided Ramzy with a one-month "humanitarian" visa so that after seven years, he could pack up his life and leave.  On January 30, 2014, Ramzy left Beijing and relocated to Taipei, Taiwan to cover China from there.
Stronger Response from Both the US & China
With his departure, the White House issued a strong statement, condemning China on Ramzy's effective expulsion.  This was a marked departure from the White House's prior strategy of silence when other U.S. reporters were effectively expelled or banned from reporting from China (Melissa Chan in 2012, Philip Pan in 2012, Andrew Higgins from 2009 to 2012 and Paul Mooney in 2013).
But the U.S. was not the only country with a changed strategy.  For all of these prior expulsions and bans, the Chinese government has never
provided a specific reason for its delay or denial.  But in Ramzy's case, the Monday before his departure, MOFA spokesperson Qin Gang addressed the issue and tried to put a fig leaf of legality over the situation.  While Qin implied that MOFA was still processing Ramzy's press card application, he accused Ramzy of violating Chinese regulations because he continued to enter and leave China on his old visa connected to his prior employer and never applied for a new visa or residence permit.
Qin was correct that Ramzy did not apply for a new visa and residence permit once he took the job with the Times, but that was not a willful act.  For a journalist visa and residency permit, part of the application is submission of a valid press card (Foreign Media Regs, Art. 10).  Here Ramzy was not able to apply for a new visa where MOFA was sitting on his application for a new press card, failing to process it.
Regardless of that fact, the law does not require Ramzy to apply for a different type of visa (presumably a non-journalist one) while waiting on a new press card.  The only time that a journalist must apply for a different type of visa to remain in China is if his press card has been "canceled," a decision that must be made public (Foreign Media Regs., Art. 14).  Here, Ramzy's prior press card was not cancelled; rather he was applying for a replacement.*  Nowhere in the Foreign Media Regs is there a requirement that a journalist change his visa type while waiting on a replacement press card.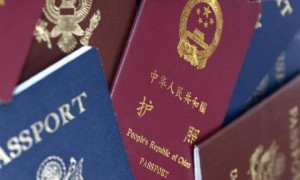 Finally, China's Exit-Entry Administration Law permits a foreign resident to stay in China to expiration of a prior residence permit even when a new one is denied: "[I]f an extension is denied, the foreigner concerned shall leave China on the expiry of the validity period specified in their residence permits" (Exit-Entry Administration Law, Art. 32).
Ramzy was within the law in entering and exiting China on his prior visa while waiting on his press card.  But MOFA's citation to the law, even if inaccurate, is an interesting development and not restricted to foreign journalist visas.  Rather, it has been a trend in dealing with criticism from abroad.  An examination of how the Chinese government has dealt with public interest lawyers shows a government increasingly using the law – even if only a fig leaf – to explain its suppression of dissent.  The Chinese government has come to realize that the rhetoric of law is often an effective defense and silencing device in dealing with the West.
The Danger of the Senate's Silence
It is this more sophisticated response that should put the U.S. government on warning that Beijing does not intend to back down in toying with
foreign journalists visas.  That is why the absence of this issue during the Baucus hearing was a dangerous disappointment.  During the hour and a half session, not a single Senator specifically asked what Baucus intended to do about this issue.  Instead, the hearing descended into the verbal embodiment of a high school social studies essay on the "interconnectedness" of the world, how they are like us, and with Baucus addressing human rights only superficially, stating that its protection "is the bedrock of American society."
By not focusing on the issue of journalists visas during the hearing, Congress has effectively signaled to Beijing that it can go back to the status quo; the Senate is too concerned with how to sell beef in China to pay attention  to one journalist unable to stay there.  This is certainly a missed opportunity because if there is one thing the Chinese government does not understand and fears as a result, it is Congress.  Even if five minutes of the hearing addressed the issue, that might have given the Chinese government food for thought.
And it would also have been useful for Americans to know what Baucus' strategy will be.  As Ambassador, Baucus will have a lot of power to determine if there should be a policy of visa reciprocity.  Does he think that is an appropriate approach?  Does he think there are other ways to deal with this issue?  How public will he be when the Chinese government again trifles with a U.S. journalist's visa?
The U.S. government – both Congress and the Administration – cannot allow this issue to slip into the background.  While the White House should be commended for issuing a statement on Ramzy's expulsion, it needs to use every opportunity to remind the Chinese government that this is a key issue.  Just stating it is not enough.  Last week, when Daniel Russell, Assistant Secretary of the Bureau of East Asia and Pacific Affairs at the State Department held a press conference, two reporters in the audience were from Chinese government-run media outlets.  Perhaps starting the press conference with a comment about how the U.S. allows a free foreign vis-a-vis China might demonstrate just how important the issue is to the current Administration.
Consistent pressure on the Chinese government from all parts of government must continue until Pan, Buckley, and Ramzy's visa applications are processed.  Back in December, when it looked like the New York Times and the Bloomberg China bureaus would effectively close, the U.S. government was able focus its resources and pressure China to renew the correspondents' visas.  But here, the danger is no different.  Where the New York Times is unable to get a new press card for any new employees in China, it will be unable to replace its current correspondents.  How long can David Barboza, 10 years in China and Ed Wong, six years, stay there?  It might be a slow death for the Times' China offices, but, unless something changes, its end inevitable
 ——————————————————————————————–
* After publication of this post on February 9, 2014, it was brought to my attention that Ramzy's prior press card with Time Magazine could have been "cancelled" under Chinese law and that Article 14 might apply to him.  A correction in the form of a new post can be found here.  Apologies in advance.  — EML