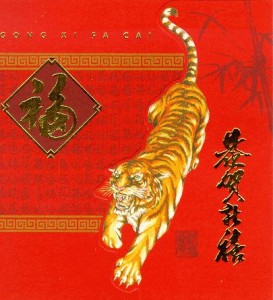 Welcome to the Year of the Tiger!  February 14 marks the start of the new year for China as well as most other East Asian countries.   Tiger years are never dull and are often marked by huge and dramatic changes, both for individuals and for the world-at-large.  So if you thought 2009 was a bit of a roller coaster, you haven't seen anything yet.   It's generally not a year to be asleep at the wheel and you should seek to take advantage of every opportunity.
But to know what is really in store for you, you need to first know your own Chinese zodiac sign.  Each animal in the zodiac fares differently in the Year of the Tiger.  Click here to learn your sign and learn your fortune for 2010.
The Lunar New Year, also known as Chun Jie (the Spring Festival) in China is a 15-day holiday, when Chinese from the cities will return to their parents' homes in the countryside and families spend the most of that time together.   The New Year is the most important holiday in the Chinese calander.
To all of our Chinese and East Asian friends, Gong Xi Fa Cai (pronounced Gong See Fa Tsai)!  May your new year be filled with family, fortune and luck!
One Response to "恭喜发财! Happy New Year!"