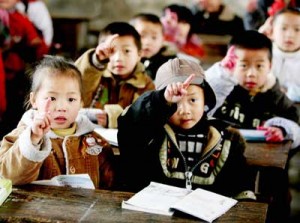 Regular China Law & Policy blogger, Marcy Nicks Moody, just posted an interesting piece over at Foreign Policy Digest.  In the past three months, China has seen a spate of killings of children, mostly kindergarteners while attending school.  Why this sudden rise in gruesome murders in a society that places so much emphasis on "social stability" and seeks to establish a "harmonious society"?  In 'Some Got Rich First–and Richer Later: The Uneven Nature of China's Economic Development,' Marcy looks at these horrific incidents, contemplates possible causes and finds the growing income inequality in China as a possible reason.
Some Got Rich First—and Richer Later: The Uneven Nature of China's Economic Development
By Marcy Nicks Moody
Over the last two months, a spate of violent attacks against schoolchildren in China's eastern provinces have heightened authorities' concerns about the instability of China's poor and mentally ill, many of whom feel left behind as the rest of China gets wealthier.   On March 23, a retired doctor, reportedly driven by a desire to take revenge on the rich, stormed a local elementary school in the southeastern province of Fujian and stabbed eight children to death, injuring five others.  The shocking incident inspired four copycat killing sprees by unemployed or under-employed adult males, most of whom reportedly suffered from mental illness.  The killings highlight the need for a better social safety net and social welfare services for the mentally ill, and put into sharp focus the uneven nature of China's economic development and its concomitant social pressures.  Soaring income inequality, widespread perceptions of helplessness and the corrupt, self-seeking behavior of some Chinese government officials have become part of the public debate as the world seeks to understand these tragedies and China seeks to prevent future ones.
One Response to "Recent Violence in China – A Reflection of Income Inequalities"